Herein I shall describe the troubles and travels of me and my Subaru Crosstrek. I named her Snowball because with the metallic flakes in the Crystal White Metallic, well, she looks like a giant snowball. I'm a simple guy.
I don't plan, at least in the short term, to do any super-crazy or involved mods on her cuz warranty and such. However, I do all kinds of little appearance, protection, and functional/comfort mods. My priorities for mods are in order as follows:
1. Function
2. Value
3. Appearance
As y'all can see, how stuff looks is not the highest priority for me, but I do think about it.
Stuff I've already done:
Exterior:
Brightlines Low-profile Crossbars
- added some cheap weather-stripping to the clamp area to close up the gap these have; seems solid
Rage Cargo Rack
- added
self-fusing silicone tape
around joints and attachment hardware to prevent water-penetration/rusting that seems to work pretty well
- I purchased this used from a forum member, but have included the Amazon link for anyone interested in one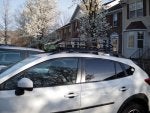 Matte black body side molding
Door latch covers
Door hinge covers
Cupeez
Rear Bumper Cover
Front Plate Adapter
Matte black Plasti-dip on the grill "wings"
Various stickers
Valve Caps
- Cuz they're better than the plastic ones
Interior:
Drive Car Trash Can
- strapped this behind the center console and have it sitting on the tranny hump; a touch awkward to reach while driving, but it works and isn't in the way of any passengers
Custom Fit Center Console Lid Cover
- plush and comfy, like resting my elbow on a stuffed animal
Fuse Box Cover Cup
Sun Visor Sunglasses Clip & Headrest Hooks
- these fit decently on the Trek's visor and the hooks give the kids a place to hang their "stuff" bags on road trips so the bags aren't taking up footwell space
Cell Phone Holder
Anker USB Charger Plug
Small leather storage pouch
- attaches via clip to the air vent
- installed on the passenger side to give my wife a place to stash her cell phone during road trips
Seat Cushion
- for my booty comfort on road trips
Black & White Seat Belt Pads
Cupholder Hero's cup holder and other cubby places liners with white trim
- cuz they're cool, and I don't mind spending a little bit on cool, call me a job-creator
Husky floor mats
Stark Performance Paddle Shifter Extensions
- very high quality
- rock-solid attachment
- I find them extremely useful as I use my paddle shifters all the time for down-shifting/engine-braking
Drink Dockers
- these things might have a silly name, but they work and they work really well. One of the nitpicks I have about the Trek is that the cup holders don't hold most drinking vessels very securely. They are designed to work with even fat keg-like containers and this leaves space (slack) around most average-ish sized beverage containers. That means in any kind of spirited or enthusiastic driving (aka driving, at least for me), my coffee cups would careen hither and yon, slopping coffee all over. Not anymore.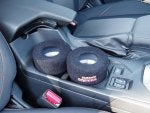 Gear:
Folding Shovel
Car Flashlight/Emergency Toolkit
- this thing is sturdy and well-made, and a surprisingly good value for what it is/does
Cobbled together first-aid kit
Press-board shelf for getting out of sand/mud traction situations
D-ring Shackles
- includes
Daystar Isolators
- inspired by
stupidchicken's DIY mod
using the OEM tow hooks
Dog Seat Belt
- for the safety of my hairy child
Metal Step Stool
- gives me sturdy and stable access to the roof rack
- compact enough to carry in the back
Moravkniv Outdoor Knife
- small but sturdy and very well made, especially for the $
- never know when this kind of tool might come in handy
- inexpensive enough that if it's lost, broken, or stolen it's easily replaced
Air Power Topsider
- I don't carry this in the car, but it's so awesome for changing car oil, especially for the Trek that has the filter on top, that I had to mention it
I plan mainly to use this thread to post pictures and relate travels and stuff. I'll try to include pics of the current mods when I can, as well as any future mods. I will also endeavor to include pics of travels and such. Enjoy